Thursday 30th June
We had a lovely day today. up early to get down to Auckland to meet an old friend of Lloyd's called Chris and Steve who came over from Melbourne to see us.
Chris
Steve is a kiwi so had a lot of knowledge about the area and knew all the back roads to places! wonderful stuff.
We set off to Huia first - I think this was the area that one of the NZ relocation programmes took a woman to to look at a house. Well it is lovely - very tropical looking. You get to it on really windey roads but it is worth it.
(this was our first stop on the way to Huia)
You can drive right up to Huia dam and get an amazing view down
this is the view from the top at the dam.
After stopping here for a lot of pictures we kept going along all the wee tiny roads - these arent sealed so our little hire car was doing us proud!
Our next stop was Whatipu - a really amazing black beach. The sand has iron in it so it sparkles brilliantly. You go right alongto the end of the road and park up - then there is about a 15 minute walk to the beach through palms and flax. The beach is wild and stunning
these pictures dont do the way the sand looks justice at all.
We stayed here for a while cos it was really cool! then we headed for some lunch - we stopped at a town - which I cant remember the nameof just now - but it was lovely! Then back on the road round to Piha to see Lion rock. Another amazing beach! very breezy today though.
A LONG day and a lot of driving on tiny roads but well worth it. Everything was within about an hour of Auckland! The scenery was amazing!
After our stay in Auckland we headed down to `Hamilton to stay with the G's. It was bloody brilliant to see them again. The drive from Auckland to Hamilton is very easy – but for the majority of the journey we were in fog! Luckily by the time we got there it had vanished and the sun was out. We really liked Hamilton; there are some lovely cafes and lots of places to eat out. – There's also millions of second hand car dealers. NZ is one of the best places to buy used Japanese cars!
We drove to Rotorua – about an hour away and went to Hells' Gate – one of the many volcanic activity areas. It was pretty smelly!! Very sulphuric, but quite amazing. The pools all bubble – there's boiling mud and all in all we liked it.
Me at Rotorua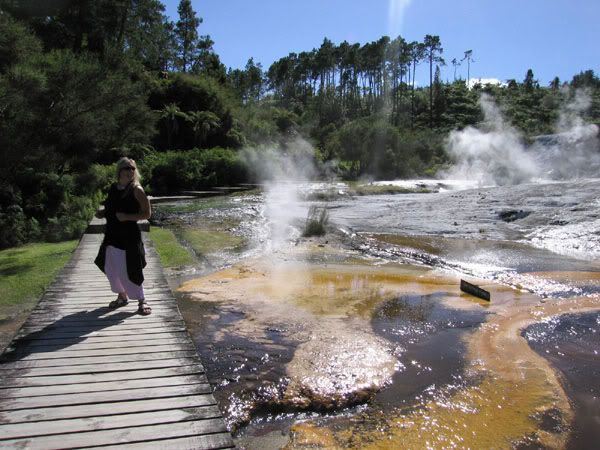 Steaming!
Lloyd ar Rotorua
In the evening we went to a very authentic Korean restaurant and had a very good meal.
Today we planned to head to Waheke Island and stay there tonight – but as they say – the best laid plans……..
There we were minding our own business driving up state highway one at a steady 100, when all of a sudden someone crashed right into the back of our car!!! (At about 130kph that was pretty scary!) Luckily no one was hurt – except our car – the other driver was a bit shaken - we suspect he was paying absolutely no attention – I mean how can you miss a car on the motorway and drive right into it – that's beyond even me! However now we can tell you all about our experience with NZ police, car insurance, hire companies and NZ tow trucks! They were all brilliant! Police and tow truck got to us in about 15 minutes. The tow truck towed us back to the hire car company who had a new car ready and waiting for us! Good service or what?
But as all this took time, we decided against going to Waheke Island – so we headed to Devonport instead. I like Devonport a lot. It's filled with old white villas - lovely! Lots of interesting wee shops. We are staying in Esplanade Hotel right on the front with a lovely view of Auckland across the bay. So I reckon every cloud has a silver lining.
Off out soon to see if we can get a nice dinner.
We ate in a restraunt called Manuka- recommended by the concierge in the hotel - very good!
_________________