Spring is nearly here.
And all our friends that were off travelling are home!! Its great. R&V and N&S all had a lovely time but are also glad to be back. We had a big brunch here today, croissants, bacon, brie, pancakes - yum! and it was just great to have everyone home again.
Our first dive is planned already - next weekend we're off on a scallop hunt so I hope the weather is good. But if it's not then who cares :O)
On mum and dad's house front - I've been working really hard and Lloyd has been helping lift the carpet and get it away to the dump! Nick helped him move some furniture in so it looks like a home now - pity there is no water, electricity or loo! But there will be ....soon....I hope. Thats taken up most of my time in the last week, but it's been great fun. The painting is
almost
finished - another couple of solid days and that should be it - floors and all.
The dogs are doing great, Brodie almost swims now but the good thing is he is completey at home in the water, bob likes him a lot and they play together brilliantly.
Having almost been swimming...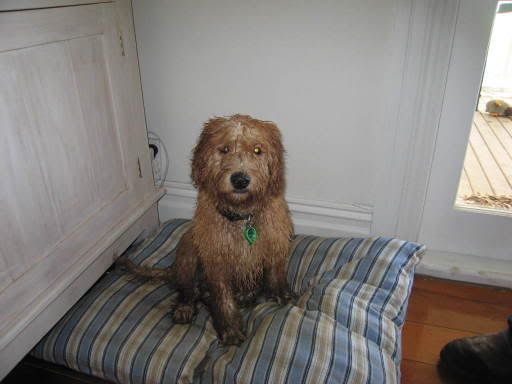 Playing at Tauranga Bay
He's growing all he time and his coat is getting to be even nicer.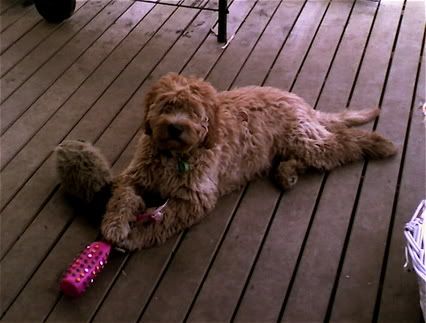 He just looks like a big teddy bear.
The garden is feeling like spring is coming - there are daffodils and things coming up all oer the place - it's our first spring here so its excting to see where things are. Its looking under control which is great and the best I could hope for.
Oh!! and big news - we're getting a spa!!!! We've ordered it and it should be here in time for mum's visit in September. John ( our nice builder) is extending the deck at the kitchen and it'll go there in its own wee bit - theres strict rules about frncing in spas here so we have to do all that to keep the council happy.